#FFFFFF
We want to hear from you!
Click below to complete our survey on the state of freight in Colorado. Feedback will be incorporated in the 2024 Statewide Freight Plan. CDOT's first Colorado Freight Plan was approved by the Federal Highway Administrations in March 2019.
In accordance with federal requirements to update this plan every four years, the Freight Mobility and Safety Branch is now working to update the current plan. 
Previous Freight Planning Efforts 
2008: Eastern Plains Rail Relocation Study

The Colorado Department of Transportation (CDOT) and the two Class I Railroads operating in Colorado, the BNSF Railway (BNSF) and the Union Pacific Railroad (UP) (hereinafter jointly referred to as the Railroads), have completed several reviews and studies since 1979 investigating the potential for public-private partnerships that would culminate in the relocation of a significant portion of through freight rail traffic away from the congested Front Range onto a bypass route in the Eastern Plains of Colorado.

More details of the relocation study can be found in the link below: 

2012: Freight Data Study

The research in this report was designed to collect information on the freight data needed to support transportation planning in Colorado.

2014 Colorado Freight Advisory Council Established

2015: Highway Freight Plan

2018: Truck Parking Study

The Colorado Department of Transportation (CDOT) Division of Transportation Development (DTD) works closely with the trucking industry to collaboratively address issues surrounding freight transportation in the state, including truck parking. To contribute to these efforts and in view of the urgency of truck parking needs, DTD has completed the Truck Parking Assessment (TPA). The TPA examines eight critical freight corridors within Colorado to quantify the level of parking supply and demand and identify solutions with the potential to improve truck parking concerns. This assessment serves as a key component of CDOT's overall efforts in the truck parking arena, providing a data driven understanding of truck parking availability and needs. It is envisioned that the TPA will spawn additional future efforts to assess, develop, plan, implement and/or construct truck parking improvements across the state.

Report from the study can be found in the link below:

2019: Colorado Multimodal Freight Plan

First official freight plan produced by CDOT as part of requirement from the FAST Act of 2018. Mandated that a new freight plan be created around policy initiatives involving projects involving freight within each state. 

Documented plan can be found below: 

2020: Freight Sector Industry Partnership

Public/private partnership working in conjunction to educate and create new employment opportunities within freight in the state of Colorado 

2021: Freight Mobility and Safety Branch created

In January 2020, the Colorado Department of Transportation (CDOT) under Executive Director Shoshana Lew's leadership, demonstrated the value it places on the freight industry and its key stakeholders by establishing the Freight Office. The Freight Office prioritizes safe and reliable mobility to support the efficiency of supply chains essential to Colorado's economic well-being.

On June 17, 2021, SB 21-260 codified in State law the creation of a Division of Transportation Development Freight Mobility and Safety Branch (Freight Branch) further elevating the importance of freight within the Department.

With this new legislation and the creation of the Branch came the requirement to develop a Freight Mobility and Safety Strategic Plan for the Branch that highlights the following:

 Vision and Goals
 Key Priorities for all freight-related programs, activities, and projects
 Guidelines for Coordination between the Branch and the Colorado Freight Advisory Council (FAC)

2022: Truck Parking Playbook

Colorado Truck Parking Playbook 2022

How We Are Approaching Truck Parking in Colorado

Federal Truck Parking Development Handbook

 

2022: Inland Port Study

2024: Colorado Multimodal Freight Plan

The Colorado DOT 2024 Freight Plan is currently underway in its development process. Please see surveys above to help us understand the needs for freight across our great state. Stakeholder input will continue to December, and final documents to be submitted to FHWA for approval early next year.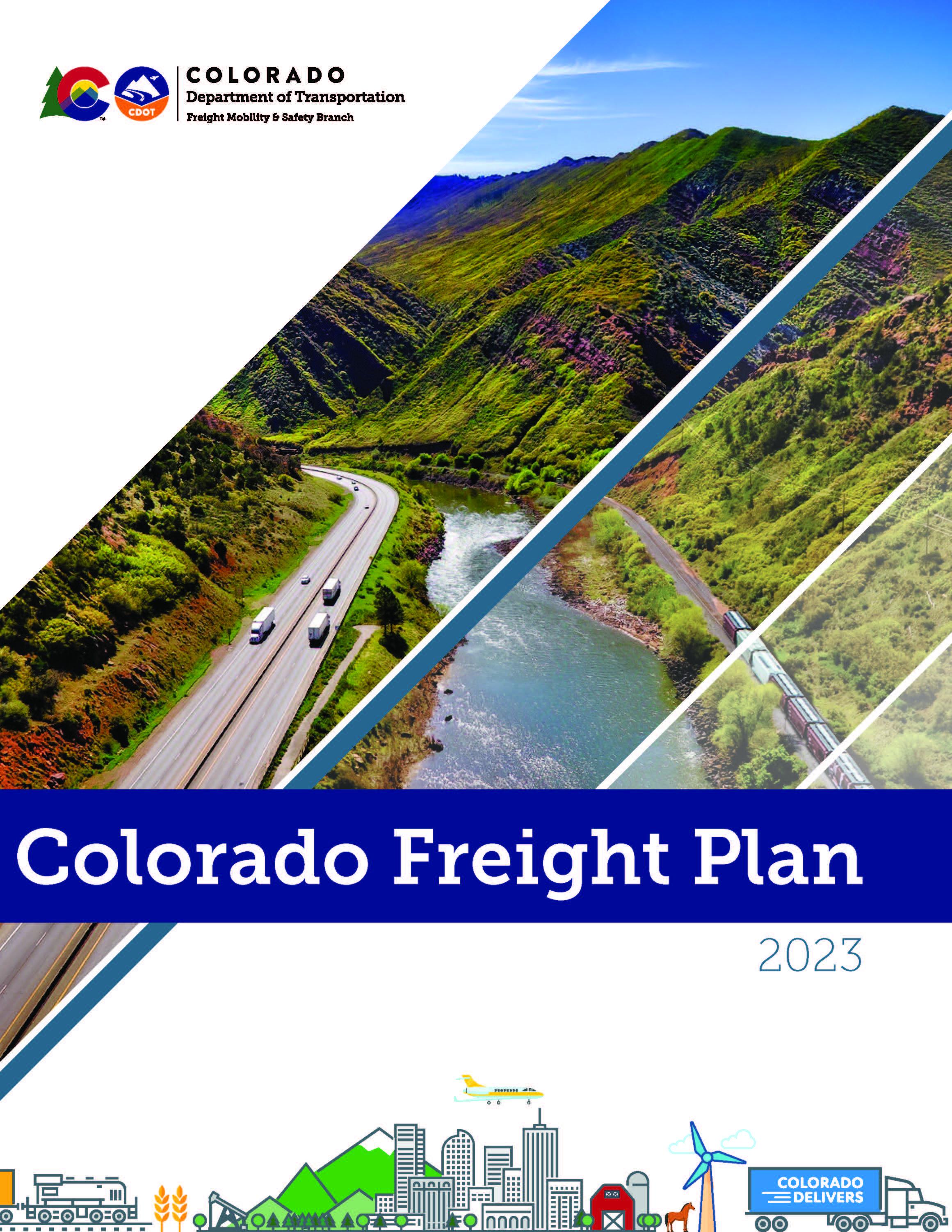 #FFFFFF

Plan updates will reflect requirements of the following policy updates: 
2024 Colorado Freight Plan Timeline
#FFFFFF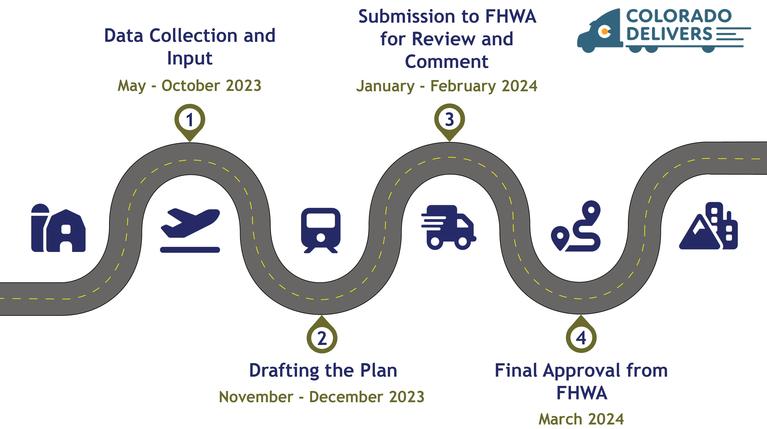 Statewide Freight Plan Focus Areas
#FFFFFF
 
Safety, or a transportation vision for a future with zero deaths and serious injuries
 
Mobility, or multimodal options for all transportation methods
   
Asset Management, or taking care of our transportation system
#FFFFFF
 
Greenhouse Gas and Pollution Reduction or environmentally-conscious freight solutions
 
Risk and Resiliency, or assessing areas of improvement
 
Equity and Inclusion, or ensuring fair freight solutions for all
#FFFFFF
Two federal acts ensure CDOT's Freight Mobility and Safety Branch complies with nationally established requirements.
#FFFFFF
FAST Act and IIJA
The Fixing America's Surface Transportation (FAST) Act established in December 2015 establishes required elements for state freight plans and mandates compliance in order for Colorado to obligate federal funds under the National Highway Freight Program (NHFP). The Colorado Freight Plan was approved as a FAST Act compliant plan in March 2019. The plan provides short-term actions and long-term guidance for CDOT, public agency and private industry partners, and members of the stakeholder advisory council who provide guidance and advice to Freight Branch strategies and activities, called the Colorado Freight Advisory Council. An appendix of this plan includes the Freight Investment program, which identifies projects funded under the Federal National Highway Freight program. 
As of 2023, an update to the Colorado Freight Plan is underway to address evolving needs and priorities in the state, and to make the plan compliant with several new required elements introduced in the Infrastructure Investment and Jobs Act (IIJA)